Our Collaborations
Michael Golden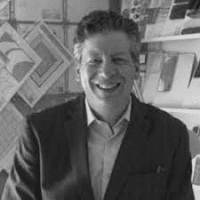 "It occurred to me that if you reduce a pattern to its minimal elements, like the four base proteins of DNA, you could add these elements back together to create a variety of layout patterns. Upon understanding this micro/macro language, over 50+ elements emerged."
- Michael Golden
Explore the metamorphosing wall designs from artist Michael Golden. A graduate of Rhode Island School of Design and a resident of New York City for the past thirty years, he has worked extensively with the U.S. tile and mosaic industries, designing and crafting works for both individual commissions and the mass market. Pulling from his extensive work with stone, glass, ceramic, metal, and wood, the Golden Series invites the viewer to engage the changing possibilities within pattern and texture.
LEAD TIME 3-5 weeks depending on area. Ship date provided upon order. No Minimum Order Quantity.
COST Range is available by Material: Bilateral ($), Contour ($$), Waveform ($$$)
Michael Golden – Bilateral
$0.00
Cambio's Bilateral Designer Series panels feature the rich beauty of wood and dual-tone diagonal lines that can be arranged into six possible configurations. With five colorways and a clear, satin-coat finish, Bilateral creates a dynamic centerpiece that can be changed and rearranged as easily as the rest of the Cambio line. All Bilateral panels come in an 18"x18" square and feature Cambio's patent-pending magnetic rail installation system.
Additional information
| | |
| --- | --- |
| Size | 18×18 |
| Color | Bilateral – Glacier, Bilateral – Storm, Bilateral – Earth, Bilateral – Desert, Bilateral – Natural |
Michael Golden – Contour
$0.00
Simplicity breathes life into over thirty-four pattern configurations in Cambio's Contour Designer Series. Featuring a singular, graceful S-curve set in two-toned wood, Contour focuses on the repeating lines and textures contained within the natural world. Offered in oak, walnut, and maple, these panels come in a low-reflective waterborne finish and feature Cambio's easy-to-install patent-pending magnetic rail system. All panels measure 9"x36".
Additional information
| | |
| --- | --- |
| Size | 9×36 |
| Color | Contour – Walnut, Contour – Oak, Contour – Maple |
Michael Golden – Waveform
$0.00
Like ripples in water or waves upon sand, Cambio's Waveform Designer Series capture the soothing motion of gently contoured line. Set in still, solid colors of glossy white, or matte black, these panels can be arranged in twenty different configurations. All Waveform panels come in 18"x36" and utilize Cambio's patent-pending magnetic rail system for easy installation and pattern rearrangement.
Additional information
| | |
| --- | --- |
| Direction | Left, Right |
| Color | Matte Black, Glossy White |